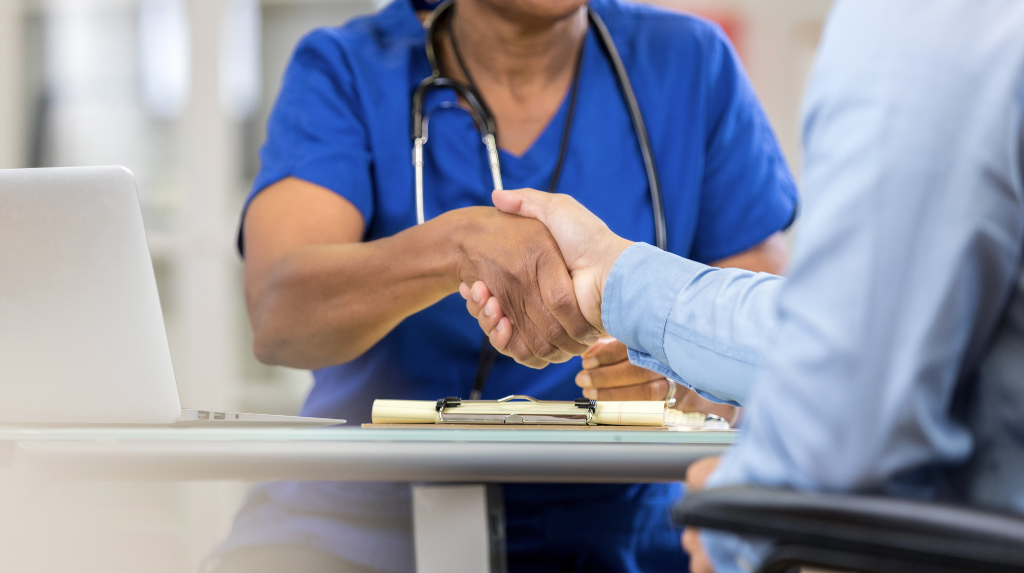 How Fine Tuning the Patient Acquisition Cycle Can Give Your Healthcare Practice a Boost
The patient acquisition cycle refers to the general process healthcare organization undergo to attain and retain new patients. While the cycle may contain some extra steps or appear slightly different depending on the specific facility, what all healthcare providers should know is how integral the progression is to marketing efforts.
Serving hospitals, private practices, and senior and home health centers nationwide, AMNY Health Marketing employs strategized marketing capabilities to assist facilities in achieving key goals, such as obtaining new patients. We provide a detailed overview of the patient acquisition cycle and explain how marketing tactics can help you fine-tune the process.
The Four Stages of the Patient Acquisition Cycle
Most healthcare marketers will cite that the patient acquisition cycle has four stages. Each segment reveals the progression that individuals must make to move from prospective patients to ambassadors for the provider. The following will discuss what each stage involves, as well as strategies you can implement to optimize the cycle and experience greater marketing success:
Brand Awareness
No business is likely to grow its customer base without effective branding. For healthcare, meaningful branding can bring more visibility to your facility and build trust among potential patients. To avoid spending resources on branding that doesn't resonate with your target audience, it's critical to maintain a comprehensive, well-organized approach.
Understanding how to create quality branding will likely involve analyzing data. What healthcare services do people in the area most need? How do you compare to similar facilities nearby, or what differentiates you from these clinics? Once you uncover answers to these questions, you can craft more targeted messaging to engage prospects.
Patient Engagement
Once you get potential patients to listen to your messaging, you can focus on educating them about your facility. While you may need to consider the unique benefits you deliver to patients in the first stage, this is where your distinguishing factors come into play more.
One of the best techniques for engaging prospects is content marketing. Blogs, sponsored content, social media posts, and even videos — these and similar content can establish you as a thought leader within an area or a particular type of medicine. This material should also point out how your hospital or practice is better equipped to provide the services that patients need than other facilities in the community, even if you don't explicitly make that claim.
Conversion
After learning more about your organization, what you offer, and what sets you apart, an individual may decide to schedule a consultation or appointment. At this point, the focus will shift to forming a relationship and proving that you are committed to delivering exceptional service and meeting their various care needs.
When patients are ready to make this switch, you want to make it easy for them to set up an appointment. An effective technique is incorporating links to contact or appointment request pages on blogs and social posts. If a possible patient cannot locate a phone number or online portal for making an appointment, they may get frustrated and look elsewhere. Many people already find it difficult to schedule doctor's office visits, so simplifying this aspect alone can substantially enhance their perception of your facility.
Referrals
After receiving superior care at your hospital or practice for a significant time, a patient may be willing to share their experience through referrals. This phase may be the single most important from a conversion standpoint — a recent study found that 90% of patients rely on online patient reviews to assess providers.
While word-of-mouth marketing is still beneficial for having patients refer your clinic to families and close friends, you can boost the value of these referrals through digital marketing. You can consider integrating patient testimonials into your web design or designating a specific page for review, as well as highlighting patient experiences on social media.
When referrals praise your healthcare organization, the buzz can reach prospects within your target audience and generate more awareness of your brand. It's this reason that patient acquisition is cyclical and why taking the time to craft strategic marketing upfront can have such long-term effects.
Increase New Patients with Help from AMNY Health Marketing
For marketing to have the most influence on the patient acquisition cycle, your facility needs a thorough knowledge of various marketing strategies and access to digital tools. Partnering with an agency like AMNY Health Marketing can give you the resources and expertise necessary to improve the cycle.
Our team of healthcare marketing strategists offers solutions backed by extensive and reliable healthcare data to help you acquire new patients and raise referrals. With our content services, we can help you craft a unique and engaging story of your brand that resonates with prospects. Contact us today to learn more about our services for healthcare organizations nationwide.