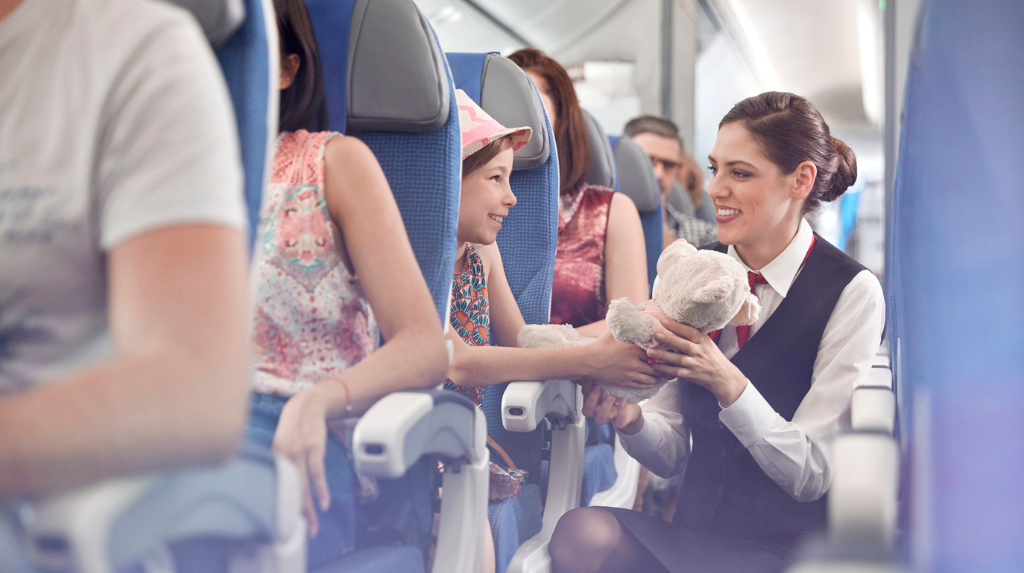 The Role of Flight Attendants in a Small or Mid-Sized Airport's Marketing Plan
Have you ever marveled at the poise and professionalism exhibited by flight attendants? We have at Advance Aviation. Customer service in a confined space can't be easy, but these highly skilled, emergency-trained airline employees make it look easy. Regional airport operators shouldn't underestimate the value of flight attendants when it comes to developing marketing plans. The expert marketing team at Advance Aviation can help you utilize these essential workers to promote the services at your airport.
Flight Attendants are in High Demand
Everyone in the airline industry is struggling with the current pilot shortage, but they aren't the only flight staff in demand. Flight attendants are part of this trend, with steep job growth expected to last through 2031. They are integral to the flight experience, and it starts while boarding at your airport.
They stand for long hours while helping passengers become more comfortable, and face high on-the-job injury rates. As is common in the industry, flight attendants may have inconsistent work schedules that interfere with their ability to sleep, even though the FAA regulates rest periods between shifts. But despite these challenges, flight attendants usually love flying and traveling, and they routinely spend time at your regional airport.
Flight Attendants Know Your Airport
Flight attendants can often be found at airports between shifts. They write reports and prepare for the next flight to arrive. They also spend hours with passengers, who are also customers in your small or mid-sized airport. In other words, flight attendants are an excellent source of information. Not only do they have their own experience of the facilities and amenities, but they regularly hear passengers talk about how the airport is affecting their travels. Did it take too long to move from the parking area to the boarding area? Were the restrooms clean? Were they hoping to find food or drink, and did they? Flight attendants frequently observe whether passenger mood is affected, positively or negatively, by services at the airport.
With expert guidance from team members at Advance Aviation, you gather and utilize market research and data insights from key personnel, such as flight attendants. Their unique perspective as insiders paired with informative customer-service roles will cast light on what is working and what needs improvement at the airport. In addition, we can utilize our expert storytelling skills to create campaigns that market solutions for airport customers.
Combined Marketing Initiatives for Airlines and Airports
In many instances, the airport and the airlines are conflated in the minds of customers. So, why not use this to your airport's advantage? Flight attendants are a great source of travel tips. Their advice and positive outlook on the process of traveling can provide an energy boost to marketing campaigns. From the boarding gate to inflight safety videos, flight attendants are considered the face of air travel.
Advance Aviation can assist your airport marketing team in joining forces with regional airline marketing efforts. Working together to communicate effectively with the same customer groups, airports and airlines benefit from the knowledge and basic approachability of the flight attendant role. Create social media marketing campaigns, share information for website development, or let our expert creative team provide images and content that promotes your collaboration with community partners.
Are Flight Attendants Part of Your Community?
The answer to this question is often yes. Flight attendants who travel through your regional airport may live in the area. They are involved in local government, schools, and recreation. The flight attendants who fly through your airport probably have a stake in the business environment and social services available in the area. By tapping into their knowledge and ideas about the surrounding areas, your airport marketing strategies can more truly reflect your region and the people who use airport services.
Benefit from Our Experience at Advance Aviation Marketing
Flight attendants are a valuable resource for information and marketing tactics. Advance Aviation helps small or mid-sized airports develop effective marketing strategies that utilize the important role of flight attendants, as well as other air industry staff. Contact us today.