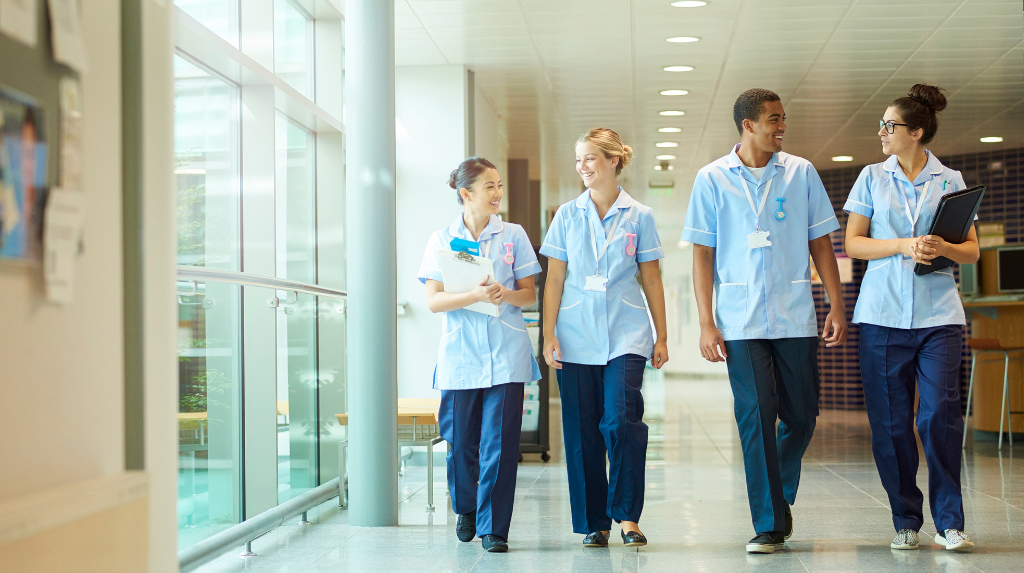 Boost Your Healthcare Recruiting: Why Staff Testimonials are Your Greatest Assets
Although nursing is the largest profession in the U.S. healthcare industry, the mounting demand for recruits has created a shortage of nurses nationwide. If hospitals and physicians' practices wish to stand out to nursing professionals, they need personalized marketing solutions that resonate with potential recruits. Testimonials from nurse ambassadors are excellent recruitment strategies because they highlight what nurses care about in a job.
"Highlighting the employee experience and hospital culture and very important in nurse recruitment, said Julie Perkins, Director of Digital Strategy at AMNY Health Marketing. "Testimonials allows the healthcare organization to differentiate themselves from a crowded field of employers."
What Is a Nurse Ambassador?
Nurse ambassadors function like brand ambassadors, as they are people who represent their company by exemplifying its values through their words and actions. They often facilitate a relationship between the business and its customers, but they may also communicate with potential candidates. Nurse ambassadors fulfill the latter role at hospitals and doctors' offices. From a recruitment perspective, nurse ambassadors make it simple for the healthcare organization to attract new employees to apply for a position.
Why Testimonials Are Important
Employee testimonials are statements that commend a company for its workplace environment.  Organizations use these testimonials to generate trust among potential hires. Recruits are more likely to believe the perspective of nurses who work at the hospital or primary care practice than they are reading a description of the position from an executive. Additionally, nurses know what matters most to other nurses and may underscore those ideas in their statements.
Testimonials are also more relatable than traditional job descriptions. When people read employee endorsements, they can imagine themselves at the hospital or practice fulfilling job responsibilities. This insight makes it easier for candidates to determine if the position meets their career needs and goals. The human aspect of testimonials can be the piece needed for a healthcare organization to stand out against competing facilities.
Employing Nurse Ambassadors at Your Facility
When assigning ambassadors, consider which nurses personify the culture of your clinic. These medical professionals often have an optimistic outlook on their jobs and can provide a positive description of a typical workday.
Once you secure a group of nurse ambassadors, think about what mediums you will use to disseminate their testimonials. For instance, you can ask some employees to write statements for website landing pages and interview others for video testimonials.
Social media platforms are essential for hospitals and healthcare offices that wish to share nurse ambassador testimonies. Distributing text and video employee statements on Meta, Twitter, or LinkedIn, with links to your careers landing page, encourages active and passive recruits to investigate more about the job and possibly apply.
"Employee testimonials can be featured in many ways: on the website, social media channels, YouTube, and across traditional and digital ad campaigns, said Perkins. "Once captured, use these testimonials in as many ways as possible across your earned, owned and paid assets to reach as many prospective nurse candidates as possible."
Obtain Marketing Assistance with Nurse Ambassador Testimonials
Testimonials from nurse ambassadors may be the key to reaching recruits for your organization, but it can be challenging to know how to begin with this strategy. If you need help creating effective nurse ambassadors, turn to AMNY Health Marketing for healthcare marketing solutions.
We take a comprehensive approach to boosting your recruitment efforts. Looking at your business and culture, we find what makes your hospital or clinic unique to emphasize the benefits of working at your facility and draw attention to your open positions. This technique promotes your organization among qualified candidates looking to make a change. Contact us today to learn how our recruitment marketing strategies can help enhance your nurse ambassador testimonials.