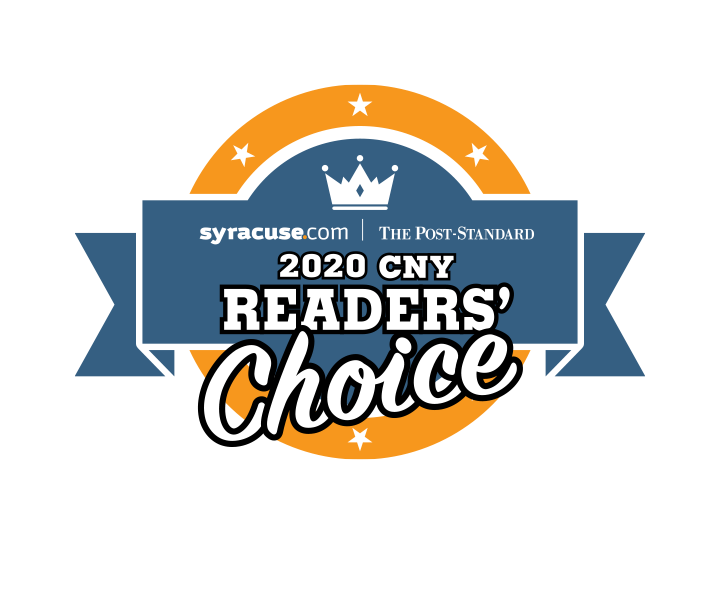 Celebrating the local businesses that make CNY special. Winners announced Sunday, December 27th. Watch our awards show presented by Syracuse Hearing Solutions on syracuse.com and check out the special section inside The Post-Standard.
Central New Yorkers cast 91,000 votes!
Celebrate your favorite local businesses! Join us for a special virtual awards show presented by Syracuse Hearing Solutions on Sunday, December 27th recorded at The Landmark Theatre on syracuse.com. And, check out our special section inside The Post-Standard on Sunday, December 27th.
CNY Reader's Choice kicked off in October and garnered more than 91,000 votes. We received more than 10,000 nominations for more than 500 local businesses. The program recognized businesses in more than 120 categories – from Best Bakery and Outdoor Dining to Best TV Personality and Most Missed During COVID-19.
Now is the time to really celebrate, not only the winners, but all the local businesses that make Central New York such a great place to live, work and play. Central New Yorkers rallied around the local businesses they love, in a time when our community needed it the most.
Thank you for your interest in the 2020 CNY Readers' Choice Awards. We look forward to celebrating our deserving CNY businesses with you.
AUTOMOTIVE
Auto Aftermarket Accessories
Auto Body Repair
Auto Parts
Car Wash
Motorcycle/ATV Dealership
Oil Change
RV Dealership
Tire Shop
FOOD / DINING
BBQ
Brewery
Brunch
Chinese
Craft Beverages
Coffee Shops
Diner
Fish/Seafood
Food Truck
Ice Cream
Indian Food
Italian
Lunch
Mediterranean / Middle Eastern Cusine
Outdoor Dining
Pizza
Sandwiches
Signature Cocktails
Steak
Sushi
Tacos/Burritos
Use of Social Media/Instagram Account
Vegetarian/Vegan
Waterfront Dining
Winery
Wings
MOST MISSED DURING COVID
Bar
Best Covid Pivot
Best Curbside Takeout
Best To-Go Beverage Pouch
Concert Venue
Date Night Out
Entertainment Venue
Festival/Community Event
Food Festival
Gym
Restaurant
Sporting Event
OUTINGS
Bed & Breakfast
Best Canoe/Kayak Spot
Best Stay-cation Location
Campgrounds
Creative Learning Workshop (Calligraphy/Painting)
Fishing Spot
Golf Course
Hidden Gem
Hiking Spot
Museum
Park
Place to Watch a Sunset
Putt Putt Golf
Skiing
Waterfall
PROFESSIONALS
Accountant
Audiologist
Bathroom Remodeler
Carpet/Tile/Flooring
Chiropractor
Contractor
Dentist
Doctor
Electrician
Financial Planner
Heating/Cooling
Home Builder
Home Security
Insurance Agency
Investment Firm
Kitchen Remodeler
Landscaping
Law Office
Local Media Personality
Medical Center
Orthodontist
Pediatrician
Physical Therapist
Plumber
Real Estate Agency
Roofing
Siding / Home Exteriors
Wedding Planner
Windows
SHOPPING / SERVICES
Accessories
Antique Shop
Appliance Store
Bank / Credit Union
Barber Shop
Boats/Kayaks/Sail
Cleaning Services
Clothing
Eyewear
Florist
Furniture
Garden Store
Gas Station / Convenience Store
Gift Shop
Home Decor
Home Improvement Stores
Hotel
Jewelry Store
Liquor Store
Local independent Grocery Store
Medical Equipment / Supplies
Nail/Pedicure
Outdoor Store
Pharmacy
Photographer
Pools & Hot Tubs
Regional Grocery Store
Salon
Spa/Massage
Wedding Venue
Window Treatments
We've been privileged to serve Central New York for over 190 years. When we're at our best, we help make our community a better place and right now, CNY needs deep support more than ever. Our goal with this special awards program is provide visibility and support to our local businesses during this challenging time.