Please donate to help the Salvation Army/United Way of Central New York Christmas Bureau.
This year has presented challenges for everyone. Many Central New York families will need your help more than ever. To keep our volunteers safe during the COVID-19 pandemic, the Hope for the Holidays – Old Newsboys Christmas fundraiser will be a virtual month-long event – Nov. 30 to Dec. 31. Donations will be accepted online or by mail: Please make checks out to Hope for the Holidays. Mail to: The Post-Standard, Attn. Diana Cavender, 101 N. Salina St., Syracuse, NY 13202.
Donations support the Christmas Bureau run by the Salvation Army/United Way of Central New York.
In the past, you would find our volunteers on the sidewalks and outside your favorite stores hawking special editions of The Post-Standard to raise donations for the Salvation Army/United Way Christmas Bureau. This year all donations will be made securely online or by mail and donations are accepted Nov. 30th through December 31st.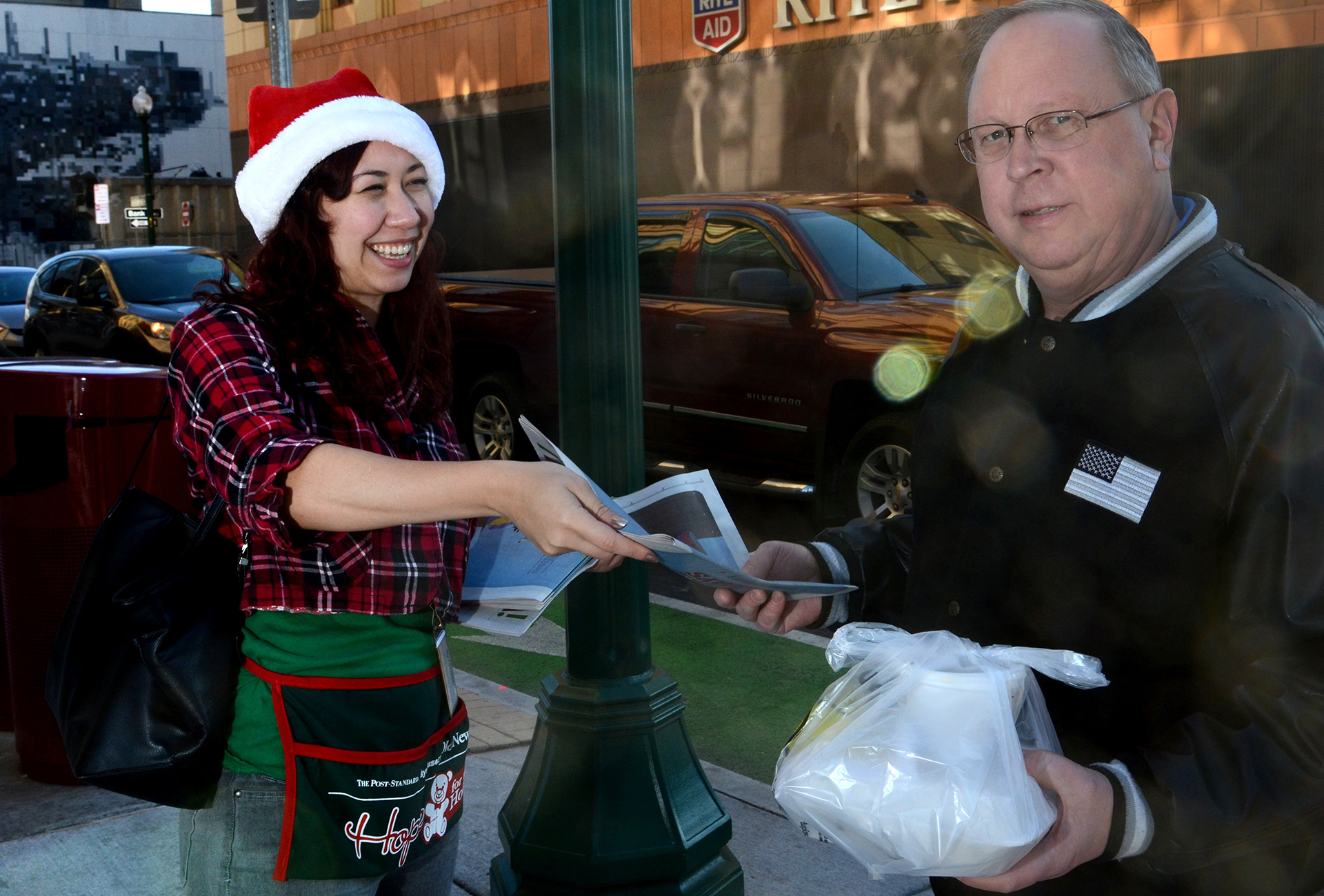 From 2015: Syracuse.com reporter Katrina Tulloch sells papers on S. Salina St. Photo by David Lassman.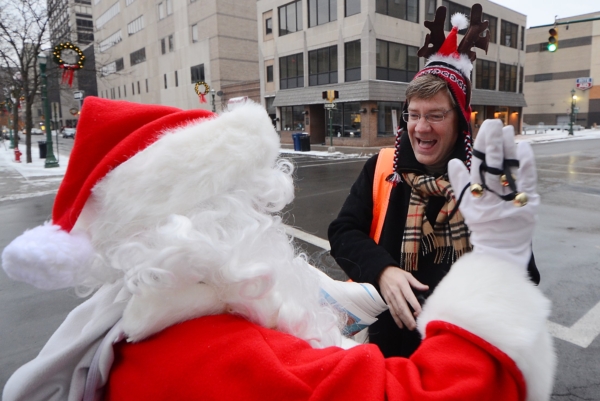 From 2013 – Advance Media New York President Tim Kennedy high-fives with Santa while hawking The Post-Standard as an "old newsboy." Photo by Dick Blume.
The Old Newsboys campaign started 89 years ago to raise money to help the needy buy coal to heat their homes in the winter. Now, any amount you're able to donate goes directly toward the annual Salvation Army-sponsored Christmas Bureau, which provides toys, books, and food for Onondaga County families in need during the holiday season.
Last year, more than 2,500 families participated in the annual toy and food drive sponsored by the Salvation Army and the United Way. They lined up to choose one toy and one book per child in the family, plus a grocery gift card for a holiday meal and food for the school break. In Onondaga County, more than 6,300 children received gifts. For some, they were the only gifts under the tree. The need is even greater this year. Our goal is $75,000.
Since we will not be selling papers in person, on December 11th, we invite you to view a special e-edition of The Post-Standard.
Thank you for helping to make the holidays better for Central New York families.
We've been privileged to serve Central New York for over 190 years. When we're at our best, we help make our community a better place. Please give to help fellow Central New Yorkers during this challenging time.