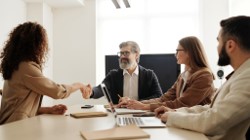 Empowering Your Top Employees to Attract New Ones
Recruiting new employees for your business can be a challenge. This is especially true for finding ones that fit within your company culture and can meet expectations. One way to attract new employees that meet your needs is to empower your current employees to help recruit people they know who would be good for the job.
AMNY Recruitment Marketing has extensive marketing capabilities and provides insights to help businesses attract new employees with assistance from their existing top talent. Here, we share information about how to empower your employees in helping recruit and refer potential employees to your organization.
Ways to Empower Your Employees
When looking to hire new employees, many businesses overlook the assistance that their current employees can offer. After all, they know your company culture, expectations, and what it takes to do the job better than a recruiter who has never worked for you. However, for your employees to want to help recruit for you, they have to enjoy and value their job. Some of the ways companies can empower their employees include:
Offering competitive wages, benefits, and bonuses
Maintaining fair hiring practices
Providing flexibility with schedules
Focusing on employee retention
Promoting from within
These are some ways to help employees feel valued and want to spread the word about working for your company. Not only can this help promote the brand and message of your business, but it can also help companies find marketing success in their recruitment efforts.
How Top Employees Can Help Recruit New Employees
Once you know your employees feel satisfied, respected, and valued at work, you can ask them to consider assisting in the recruitment process for new employees. There are many ways that current employees can do so, but some of the most effective strategies include:
Referrals and Word of Mouth
Your top employees are valuable to your company because of the quality work they provide, and you want your new employees to be able to do the same. One way to get a similar pool of applicants is by interviewing referrals from your current employees, especially people they've worked with previously.
You trust your employees, so you are more likely to trust people who have worked in similar roles. Your employees can also help to spread the word about openings in your company at networking events and on their social media pages.
Public Brand Reviews
As more and more people use the internet to look for and apply for jobs, it's essential to have a strong brand reputation when prospective employees come across your business. Sites like Glassdoor let people read reviews on businesses from current and past employees, and they can make or break whether a person decides to apply for a job at your company.
Your current top employees can write positive reviews on the benefits of working at your company to help improve your overall reviews and entice prospective applicants.
Employee Ambassador Program
Another way for current employees to help recruit new employees is through an employee ambassador program. These programs enable employees to raise awareness about your brand, spreading its message, job opportunities, successes, and community involvement to more people. When positive messages from many employees reach others, word will likely spread about working for your company and how this experience is positive.
Many employees already exhibit some of these strategies on their own, but creating structured plans for them to help with recruitment will ensure more people get involved and your whole company sees success. If you're not sure where to start, working with a recruitment marketing agency like AMNY Recruitment Marketing is a great place to begin.
Get Access to Recruitment Marketing Strategies
If your business could use some assistance in marketing to prospective employees, consider leaning on your top talent to help. Whether or not you already have your employees on board, AMNY Recruitment Marketing can help your business create a customized recruitment plan with marketing solutions like testimonials, job postings, content creation, and data analytics. Contact us today to learn more about how our recruitment marketing solutions can benefit your business.