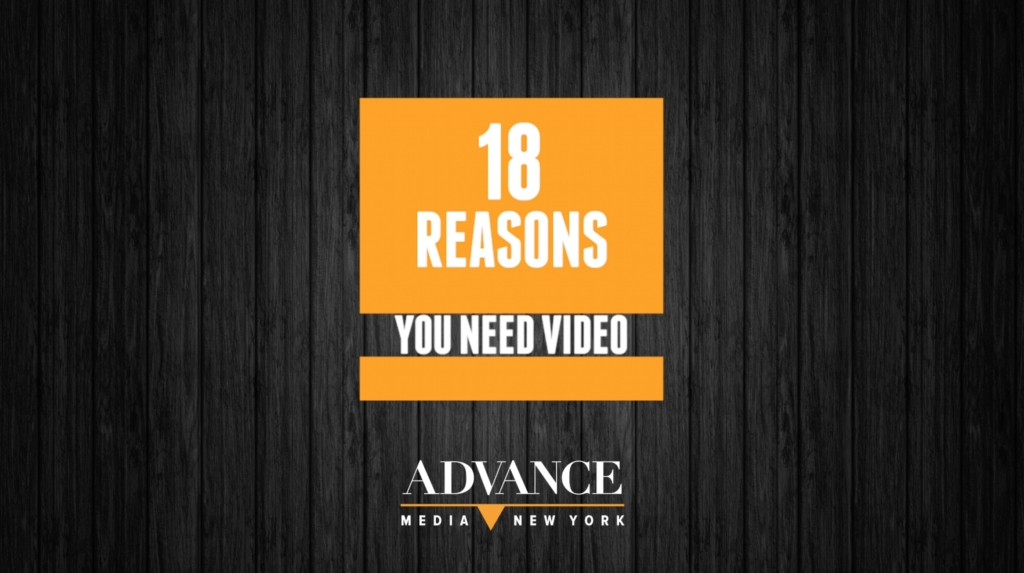 More video content has been uploaded to the web in the last 30 days than the major U.S. TV networks have created in the last 30 years.
How important is video in your marketing strategy?  Nearly 90% of online marketers are currently using video content, 51% name video as the type of content with the best return on investment, and 50% of advertisers are shifting budgets from TV to digital video.  It's no wonder, when you look at the statistics:
Video marketers get 66% more qualified leads per year.
You are 53 times more likely to rank on the first page of Google when you use video.
More than 50% of consumers want to see videos from brands – more than any other type of content; but:

Keep it short 'n sweet; 67% of consumers prefer video under 60 seconds.
It's important to get the tone right: 75% of consumers have not bought a product because the voiceover annoyed them; 83% prefer an informal and chatty tone.
Almost 50% of web users look for a video before visiting a store.
After watching a video, 64% of users are more likely to buy a product online.
57% of retail brands say their average order values increase when users watch just one video they've produced, and sales totals double when people have watched 10 or more videos.
92% of people who consume mobile videos share them with other people.
Social video generates 1,200% more shares than text and image content combined.
The top three most effective types of video content are:

Customer testimonials…customers spend 31% more with businesses which have good customer testimonials.
Demonstration videos…74% of users who watched an explainer video to learn more about a product or service subsequently bought it.
Tutorials…"how-to" searches are up 70% year-over-year on YouTube.
Video on Twitter is 6 times more likely to be retweeted than photos.
YouTube has more viewers ages 18-49 than any US cable network
Online video ads receive 18 times more viewer engagement than TV commercials.
75% of executives watch work-related videos on business websites at least once a week, 65% of executives will visit a website after viewing a video, and 39% will call a vendor.
59% of company decision makers would rather watch a video than read an article or blog post.
Including video in an email leads to a 200-300% increase in click-through rate, and using the word "video" in an email subject line increases open rates by 19% and click-through rates by 65%.
People spend on average 2.6 times more time on pages with video than without, and viewers retain 95% of a message when they watch it in a video compared to 10% when reading it in text.
Embedding videos in landing pages can increase conversion rates by 80%.
53% of smartphone users feel more favorable towards companies whose mobile sites or apps provide instructional video content.
And no worries if you don't have a fancy camera.  Your smartphone is probably just fine to get started.  We typically use a professional grade video camera, and the iPhone, Samsung Galaxy or Google Pixel work in a pinch.  You can do it alone or enlist the help of a full-service digital marketing agency who will help you bring your vision to life and make the most of your video by crafting a strategy to get it out to your target audience.  For more on video marketing, check out these other blogs:  Why video is an essential part of your marketing plan and How consumers & technology are changing the video landscape.
(Sources:  Google, Twitter, Syndacast, Animoto, Curata, HubSpot, Insivia, Forrester, Wistia, ComScore, Forbes, Wyzowl, Blue Corona, Wordstream, Wirebuzz, Marketing Land, Invesp, and EyeWideDigital)