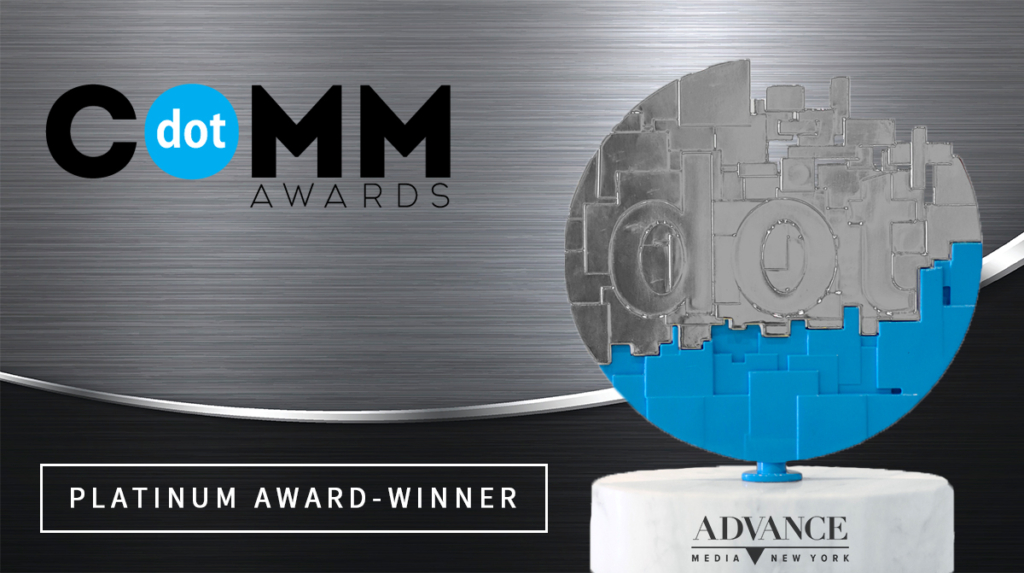 Platinum Winner in the 2022 dotComm Awards International Competition
Out of 2,500+ entries from throughout the United States and many other countries in the dotCOMM Awards 2022 competition, the Creative Services team here at Advance Media New York was one of the few selected for a Platinum Award (see work below). The award was for a long-form video created for the Finger Lakes Countrysides – part of the Yates County Chamber of Commerce that showcased the local food scene in the county. Our creative team also received an honorable mention for a :30 video created for Jefferson Community College. This is the 7th International Creative Award the team has won in 2022 (12 since May 2021)!
The dotCOMM Awards is an international competition honoring excellence in web creativity and digital communication. The competition is unique in that it reflects the role of creatives in the dynamic web that is transforming how we market and communicate products and services. The Awards' categories are the elements of the web's evolving tools. Interactivity, content, design, social media, video, apps, blogs, and influencers are all important components of digital public relations, marketing, and advertising campaigns. Together, they generate branding, customer engagement, and ultimately sales. The dotCOMM entries come from corporate communication departments, public relations firms, digital shops, advertising agencies, and freelancers. Entrants include designers, developers, content producers, digital artists, video professionals, account supervisors, creative directors, and corporate executives.
The dotCOMM Awards is administered by the Association of Marketing and Communication Professionals (AMCP). The international organization oversees awards and recognition programs and honors outstanding achievement and service to the profession. Judges are industry professionals who look for companies and individuals whose talent exceeds a high standard of excellence and whose work serves as a benchmark for the industry.
Visit dotcommawards.com to see the full list of this year's winners!
Platinum Award Winner
Travel/Tourism Video
Client: Yates County Chamber of Commerce
Creator: Kayleigh Tarbet
Honorable Mention
Higher Education Video
Client: Jefferson Community College
Creator: Lea Gonyea, Kayleigh Tarbet and Matt Sourwine