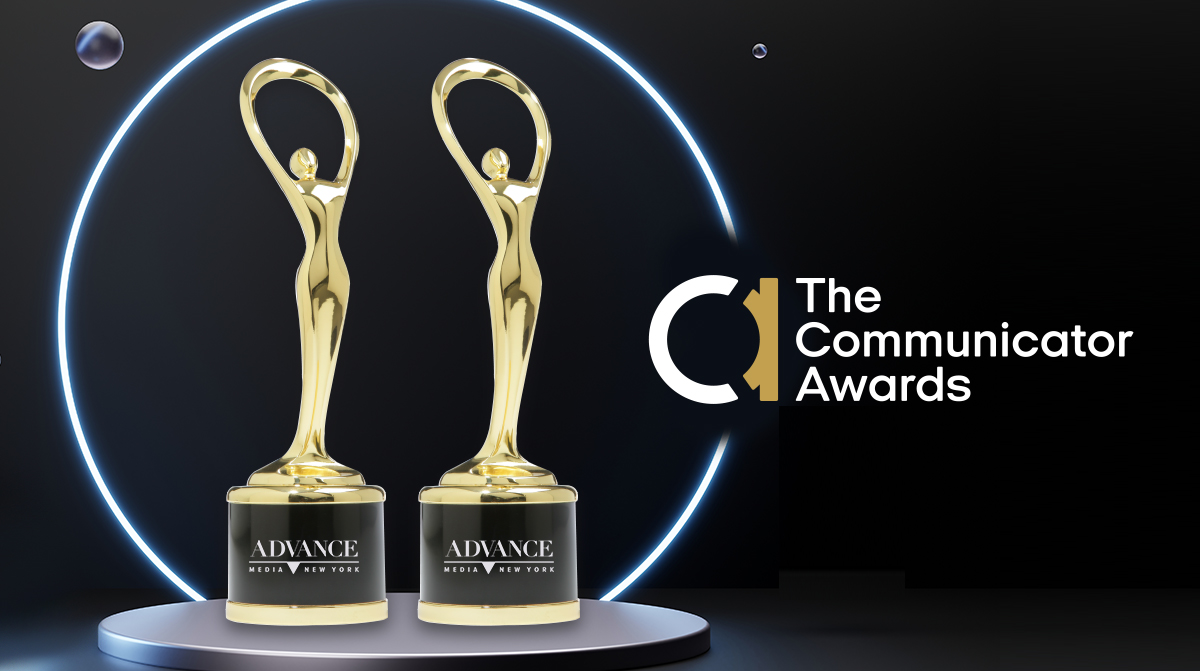 Winners of Two Prestigious International Video Awards
The Academy of Interactive and Visual Arts has announced the winners of the 27th Annual Communicator Awards. Congratulations to our Creative Services team here at Advance Media New York for winning the prestigious Award of Excellence for two videos they shot and produced  (see videos below). One video was for Syracuse local-business, Roma Tile & Marble and the other award-winning video promoted a mask-wearing challenge developed by Syracuse-nonprofit, BABY B.A.C.K. INC. This prestigious recognition comes just weeks after the Advance team took home 20 New York State Creative Awards, which included the coveted John J. Evans Award for Advertising Excellence – a statewide honor.
With over 6,000 entries from across the US and around the world, the Communicator Awards is the largest and most competitive international awards program honoring creative excellence for ad agencies, interactive agencies, production firms, in-house creative professionals, graphic designers, design firms and public relations firms. Other winners of the Award of Excellence, the competition's highest honor, include UFC, PepsiCo, Forbes, BoxMedia, WWE, Microsoft, Code Red. GmbH, Comcast and Disney Creative Studios. Visit communicatorawards.com to see the full list of this year's winners.
"The work entered in to this year's 27th Annual Communicator Awards is even more impressive than in seasons' past. This year's entries are a truly stellar embodiment of our 'Communication is everything' tagline," said Eva McCloskey, managing director of the AIVA. "On behalf of the Academy, I would like to thank all of this season's entrants for their willingness to produce such boundary-pushing, effective and outstanding work."
The Communicator Awards are judged and curated by the Academy of Interactive and Visual Arts (AIVA). The AIVA is an assembly of leading professionals from various disciplines of the visual arts dedicated to embracing progress and the evolving nature of traditional and interactive media. Current AIVA membership represents a "Who's Who" of acclaimed media, advertising, and marketing firms including: GE Digital, Spotify, Condè Nast, Disney, Republica, Majestyk, Fast Company, Upstatement, and many others. See aiva.org for more information.
Advance Media New York's Creative Services Manager Matt Sourwine is thrilled with his team's recent accomplishments. "We have a very talented creative team here and we take great pride in all that we do for our clients. We approach each project strategically and we always ask ourselves – how can we make what we're doing award-winning?"
2021 Award of Excellence Winner
Film/Video ­- Direct Marketing
Client: Roma Tile & Marble
The Team: Kayleigh Tarbet, Matt Sourwine and Debbie Feeley
Roma Tile & Marble is the perfect example of a local business that has deep roots in the Syracuse, NY community. They've been in business since 1969 and their showroom and manufacturing space is something to be seen. They have by far the largest selection of tile and countertops in Central New York. They typically just run ads that promote a particular product and price. We had a vision to make a high-end video that would tell their story in a way that they've never done. We wanted to showcase their craftsmen cutting/polishing countertops in their manufacturing space – something you don't get from a Lowes or Home Depot. We wanted to showcase their two-story showroom as well as speak to the history of the business. We wanted to do all of this in a powerful and emotional way.
This long-form video is meant to live on the homepage of their website as a storytelling piece. We've also created shorter versions of this to run in ad placements as well. They were thrilled with the final creative.
2021 Award of Excellence Winner
Commercial ­- Causes & Awareness
Our Client: BABY B.A.C.K. Inc.
The Team: Kayleigh Tarbet, Matt Sourwine and Jim Curry
As we all know, 2020 was a difficult year and a time where wearing masks became essential. We had a non-profit organization based in Syracuse, NY (BABY B.A.C.K. Inc.) approach us about helping them with an awareness campaign focused on communicating the importance of wearing a mask. What they wanted was a video that promoted a contest/challenge in which kids would submit a creative video for a chance to win a $1000 or $500 prize. The goal was for kids to communicate the importance of wearing a mask as well as share it out for the world to see on social media. The value was the number of people that were reached with all these creative video submissions. This video challenge was in partnership with the CDC Foundation. The video that we created was used just on social media to promote the challenge. We got custom #MaskOn2021 masks made for the kids who participated in our video and we recorded them in our studio (while following CDC guidelines etc.).