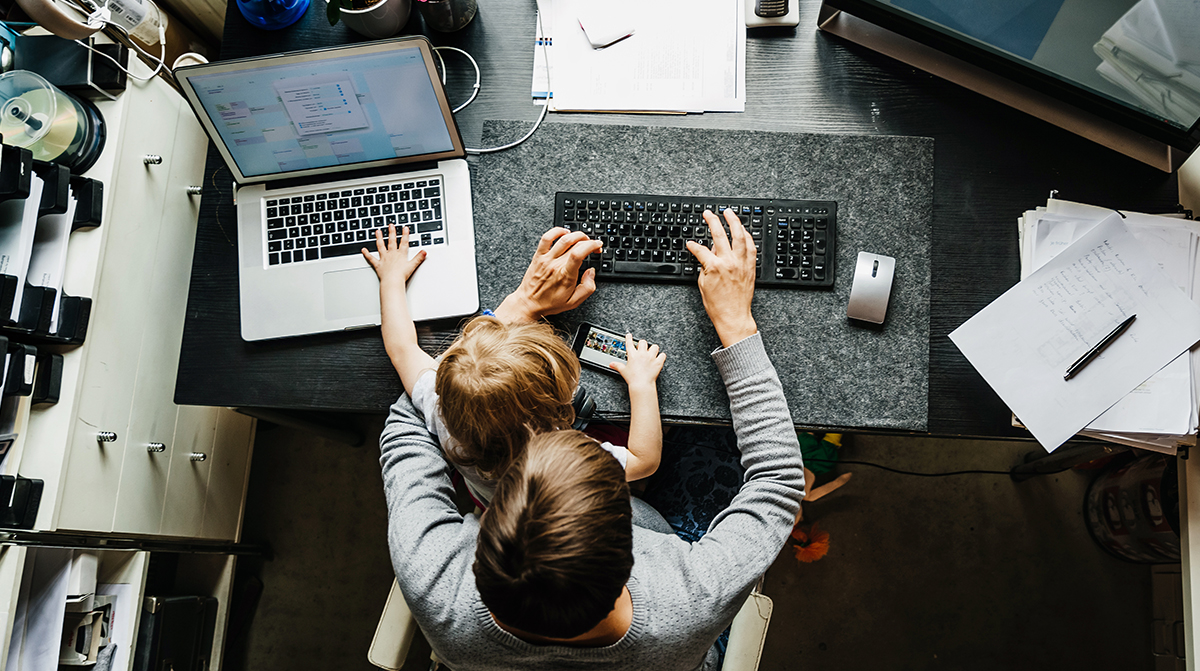 While essential workers are on the front lines, playing a critical role in the fight against COVID-19, the rest of us have been doing our part by staying home.  A big part of this has been working from home for just about 3 months now.
For some of us this is just a more intense version of what we experienced before.  While we may have worked from home 1-2 days a week – to focus on a big project, to catch up in a distraction free space or even because we or a family member weren't feeling well – it's now a necessity.
Employers have quickly adapted their technology to allow for remote work.  They have beefed up employee access to VPNs, teleconferencing and hot spot technology that allow us to seamlessly (well most of the time) work from home.
All of these forces combined, have increased the rate of working from home from 39% pre-COVID to 57% as of April 3, 2020.  And since that is the very beginning of the crisis, this percentage is probably even higher.
While WFH is an essential part of daily life for most of us now, working from home is still seen as an employee benefit.  People are grateful that they can keep working at their job and earning their same paycheck all while contributing to a company that they feel is looking out for their well-being.
Even in non-pandemic times, people value working from home.  According to a Crains NY, Future of Work survey, the main contributors to employee retention is offering flexible schedules and telecommunting options.
And that same study showed that 90% of workers believe that WFM contributes to more positive work morale.
WFW is a silver lining amid the pandemic.  People can continue working but within the confines of their own home.  It allows them to control a bit of the uncontrollable, setting their own schedules in a familiar place all while allowing them to keep in place safety protocol and safe social distancing measures in this scary and uncertain time.
Pandemic times or not, there are some solid reasons why working from home is great.
You spend less time commuting.
This means more time to spend with family, doing a hobby, exercising, tending to housework or other ways we choose to spend our days.  It also means more time to work – starting and stopping when you may have gotten into the car to drive – can lead to longer days.  So this is a bit of a plus and a minus.
Lower expenses.
Lower gas expenses, no eating out at lunch, heck no putting on makeup or wearing work specific clothes.  There's a reason that beauty and apparel categories are seeing a decrease in revenue – as we work from home looking good doesn't hold the same weight.  Sorry co-workers.
 Increased Productivity.
Less distractions at home (at least those without kids at home) and an ability to schedule time when you have the best concentration all lead to at least the feeling of increased productivity.  And since we feel / are more productive, that's why working from home just feels so good.
The Benefit of Flexibility.
This perk goes hand in hand with productivity.  There are more options to start your day earlier if you're a morning person, or work after the kids go to bed if you're more of a night owl.  As long as you're getting the work done and are available for any important meetings, your schedule can be made your own.
Safety in Your Own Space.
Specific to our current COVID crisis, safety has become an added benefit of working from home.  People appreciate the ability to be home, to control your environment and to adhere to social distancing restrictions without fear or intrusion from others.
And while most of us really do appreciate the working from home, there are some downsides.  The downsides have been likely made worse by working from home for so long and on an indefinite timeline.
Regardless, the number one complaint from those working from home is how hard it is to unplug.  That flexible schedule, the no commuting, the productivity that just feels so good, makes it hard to shut it down at the end of the day.  Plus, in not being in the office, employees find it harder to make your contribution known.  We sometimes overcompensate for this by sending emails early in the morning, late at night or with an unneeded sensitivity in order to prove our worth.
Loneliness, especially now 3 months in, is a pitfall.  While working from home eliminates the random desk drive by, freeing you from common office distractions, you grow to miss those impromptu conversations.  You miss grabbing a cup of coffee and running into a friend from IT.  Or you miss grabbing lunch with your best bud in sales.  While more productive, working from home, especially for weeks on end, can be a little lonely.
And while we've all gotten the hang of video conferencing by now, there's still something about face to face meetings that make collaboration and communication more effective.