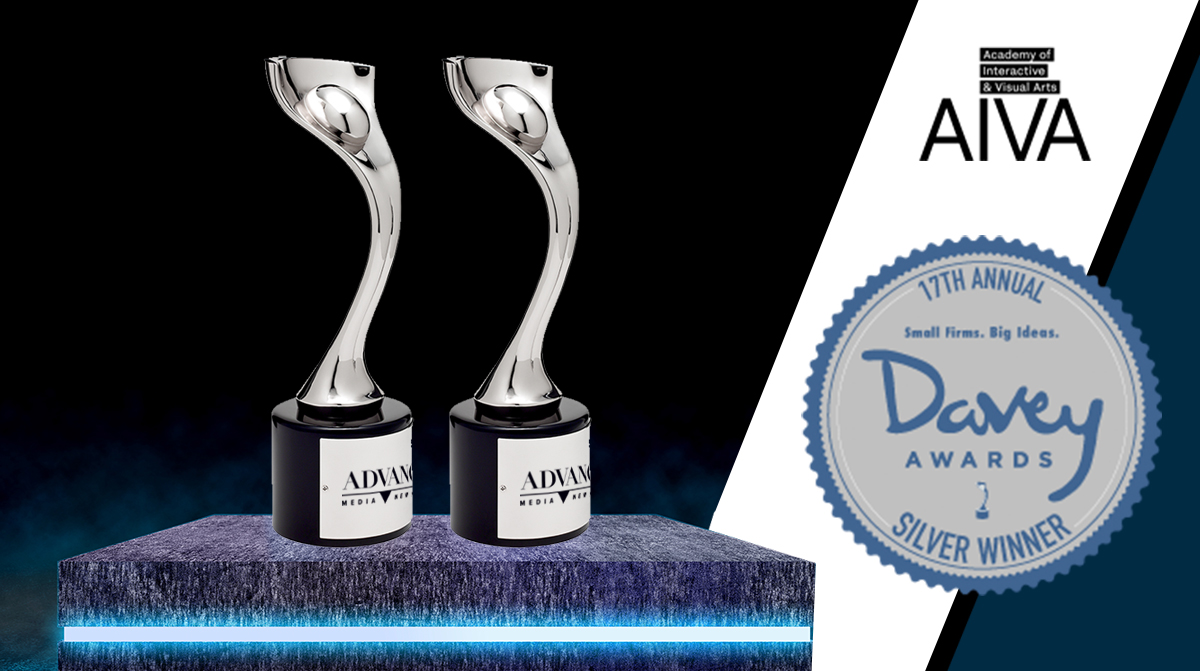 Recipients of Two International Awards for Travel/Tourism Videos
Winners of the 17th Annual 'Davey Awards' have been announced by the Academy of Interactive and Visual Arts. With over 2,000 entries from across the U.S. and from around the world, the Davey Awards honors the finest creative work from the best small ad agencies, digital agencies, production firms, in-house creative professionals, graphic designers, design firms and public relations firms worldwide. Congratulations to our Creative Services team here at Advance Media New York for winning two silver 'Davey Awards' for two travel and tourism videos they shot and produced (see videos below). The award-winning videos promoted Yates County and Fulton County which are both located in New York State. This prestigious recognition comes in a year where the team won two Awards of Excellence in the Communicator Awards (the largest and most competitive international awards program) while also taking home 20 New York State Creative Awards, which included the coveted John J. Evans Award for Advertising Excellence – a statewide honor.
The Davey Awards is an international award that exclusively honors the "Davids" of creativity, the finest small shops, firms, agencies, and companies worldwide. David defeated the giant Goliath with a big idea and a little rock – the sort of thing small agencies do each year. The annual International Davey Awards honors the achievements of the "Creative Davids", who derive their strength from big ideas rather than big budgets. The Davey Awards is the leading awards competition specifically for smaller agencies as they compete with their peers to win the recognition they deserve.
The Davey Awards is judged and overseen by the Academy of Interactive and Visual Arts (AIVA). The AIVA is an invitation-only member-based organization of leading professionals from various disciplines of the visual arts dedicated to embracing progress and the evolving nature of traditional and interactive media. Current membership represents a "Who's Who" of acclaimed media, advertising, and marketing firms including: Spotify, Majestyk, Big Spaceship, Nissan, Tinder, Conde Nast, Disney, Microsoft, GE Digital, JP Morgan, PGA Tour, Wired, and many others. Please visit daveyawards.com to view the full winners list.
Advance Media New York's Creative Services Manager Matt Sourwine is beyond excited for his team and the success they've had in 2021. "We may not have the biggest team but we sure do have a talented one and I'm proud of the year we've had together. We love what we do and we're always striving to get even better. We appreciate all of our client's who have given us the opportunity to help them with their creative needs. "
2021 Davey Awards Winner – Silver
General – Travel/Tourism for Online Film & Video
Client: Visit Yates County in New York State
The Team: Kayleigh Tarbet, Matt Sourwine and Bridget Cerrone
Upstate New York is full of hidden gems and Yates County is one of them. It's located in the heart of the Finger Lakes region and is home to sparkling waterfronts, breathtaking scenery & world-class wineries. We had the pleasure of working with The Yates County Chamber of Commerce on this video project. We were able to explore the county and capture captivating footage (we had an amazing time!). We produced this long-form video as well as a variety of other deliverables for them to use to promote traveling to the county.  We highly recommend taking a trip there to explore all that there is to do in the Finger Lakes Countrysides.
2021 Davey Awards Winner – Silver
General – Travel/Tourism for Online Film & Video
Client: Visit Fulton County in New York State
The Team: Matt Sourwine, Kayleigh Tarbet and Bridget Cerrone
Another hidden gem in New York State! Fulton County calls themselves the 'Foothills of the Adirondacks' and are known for their 44 lakes and 74,832 acres of wild forest while also featuring rich, inviting history and a wealth of culture and the arts. The county is located 40 minutes from Albany, and just a few hours from New York City, Syracuse, Montreal and Boston making it a four-season vacation destination. We had the opportunity to work with the Fulton Montgomery Regional Chamber of Commerce on this :30 video promoting the area. We had a great time discovering and recording some great spots in the county. We highly encourage a visit to relax, play, wander and discover in the Southern Adirondacks!