INTRO
The 211 system helps residents find resources by dialing a simple three-digit number. Locating basic resources such as food, shelter, employment, or health care may mean calling dozens of phone numbers, then struggling through a maze of agencies and services to make the right connections. The goal of this campaign was to increase usage of 211 services from residents of target counties by 10% for the months of May, June, July, August, and September – usage defined as phone calls and web visits.
The strategy that we developed was to raise awareness of specific reasons to call or click through a multi-media advertising campaign. The Tactics built into this campaign escalated as we moved through the five-month campaign – search, social and print went live in May, digital display went live in June, social (video) began in mid-July, TV (video) ran August and September.
SERVICES
Video Creation
Digital Ad
Print Ad
211 Awareness Video
Video: Television Campaign: Viewership is aging and shrinking but local network affiliates still deliver significant reach. Schedules ran from August and September. Social Campaign: Our 211 video's watch time averaged around 9 seconds- we had 90,132 video plays & 19,383 thru plays (watched entire video, or at least 15 seconds). Benchmark metrics vary based on industry, length of video, & targeting- our metrics above show our users were engaged with these videos.
Digital Ads
Digital Display Campaign: Generating brand awareness amongst the target audience using four ad sets (rectangle, leaderboard, mobile banner) optimized based on engagement. BENCHMARKS: In-View Time: 211 ads = 18 – 24 seconds versus industry average 10.58 seconds. Well above industry average.
CTR: 211 ads = .08% – .12% versus industry average .06% – .08%.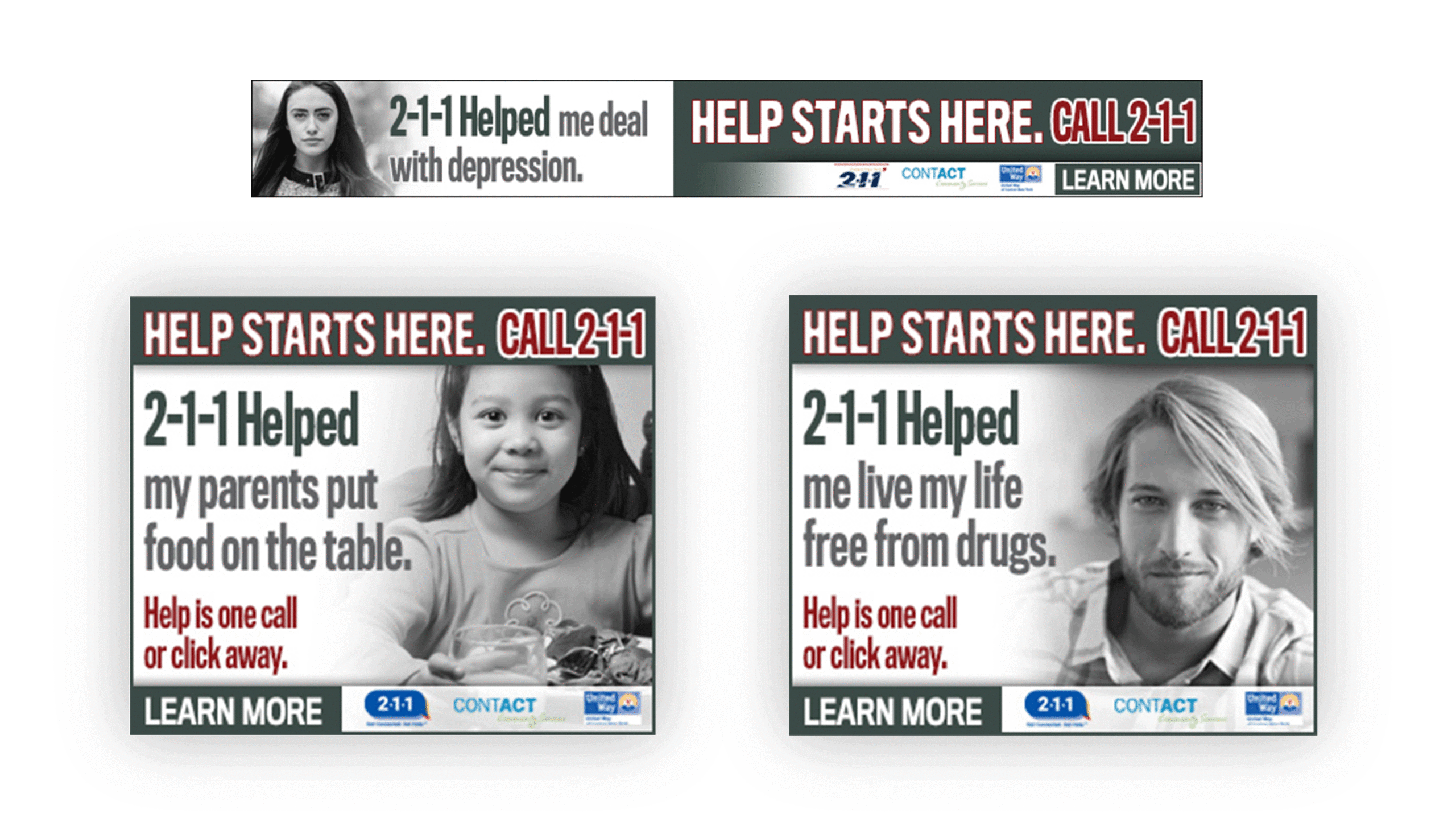 Print Ads
Print Campaign: Large-space (half-page) color ads in each market's most dominant reach vehicle the Sunday newspaper, especially among baby boomers. Sunday Watertown Daily Times: four half-page ads in June reaching 40,000 readers each insertion. Sunday The Post-Standard: four half-page ads in May, June and August reaching 237,000 readers per insertion.