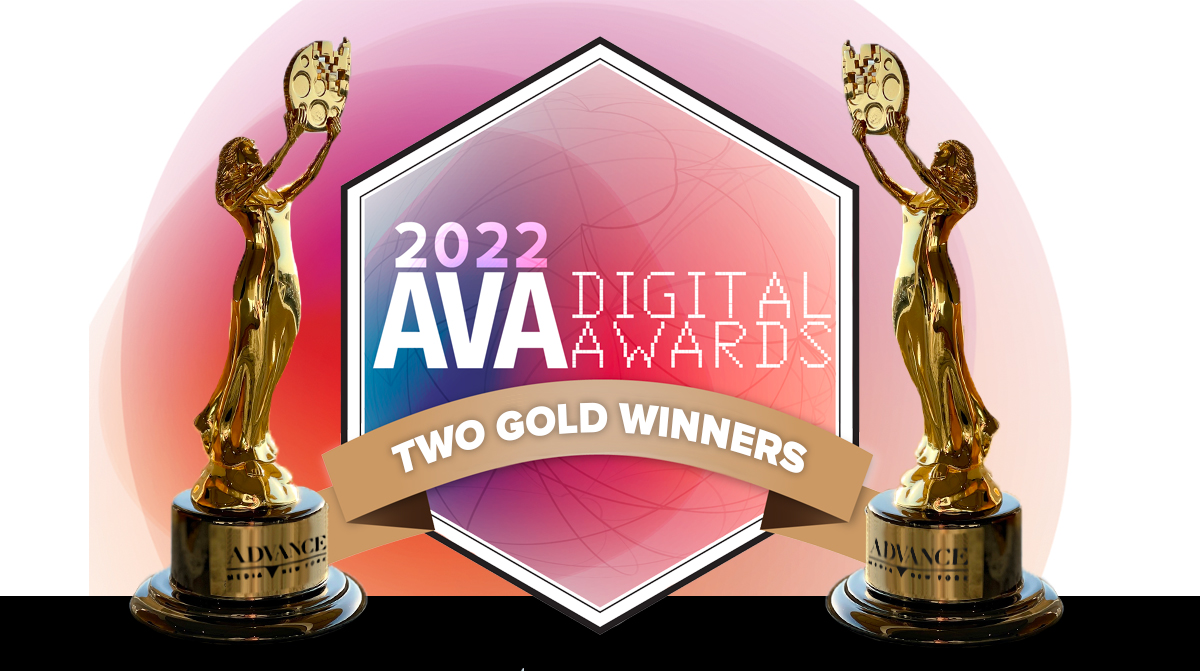 Two Gold Award-Winners in 2022 'AVA Digital Awards' International Competition
Congratulations to our Creative Services team here at Advance Media New York for winning two gold 'AVA Digital Awards' for their exceptional work in 2021 (see winners below).
The creative team has been internationally recognized with the 'Team Achievement' gold award for their body of work in 2021. This award speaks to the quality of creative work produced throughout the year, as well as, the significant financial growth achieved. Key accomplishments which contributed to the win include: Winning five international creative awards, 20 New York State creative awards, expanding the creative services team due to significant growth.  The team also provided creative services to 133 clients in a variety of different industries throughout the country (including 34 airports), which contributed to their win.
The creative services team also received a gold award for an animated digital holiday card produced for Bond, Schoeneck & King, a full-service law firm with offices across the United States. The video features an animated snowman that communicates how the law firm is always here for their clients even in toughest of times. Our creative team also received an honorable mention for a commercial produced for Wayne County Tourism that featured breathtaking scenery captured by drone.
AVA Digital Awards is an international competition that recognizes outstanding work by creative professionals involved in the concept, direction, design, and production of media that is part of the evolution of digital communication. Work ranges from audio and video productions, animation, interactive websites, blogs, podcasts, social media sites, and other forms of user-generated communication. The competition started in 1994 and continues to grow every year with over 2,500 entries being submitted from companies throughout the world.
The awards competition is administered and judged by the Association of Marketing and Communication Professionals (AMCP). The international organization consists of several thousand production, marketing, communication, advertising, public relations, and freelance professionals. AMCP administers recognition programs, provides judges, and rewards outstanding achievement and service to the profession. Judges are industry professionals who look for companies and individuals whose talent exceeds a high standard of excellence and whose work serves as a benchmark for the industry.
The AVA Digital Award was designed to pay tribute to the magnificent history of the audio-visual and web industries. The elegant woman holding a film reel or media disk that morphs into an array of cubes, is symbolic of the evolution of digital interactivity and the worldwide web. See all the winners listed on the AVA Digital Awards website at www.avaawards.com.
2022 AVA Digital Awards Winner – Gold
Recognition for Team Achievement for 2021 Success
The Advance Media New York Creative Services Team
The Team: Matt Sourwine, Kayleigh Tarbet, Karen Sherwood, Lea Gonyea, Nicole Barry, Amy Bleier Long, Mary Jo Kravec
In a year filled with many challenges from the pandemic, our creative team found ways to adapt and continued to thrive. They captured footage, shot pictures, produced videos, designed billboards, developed branding for companies, created print and digital ads, coded emails, built landing pages and continued to learn new things along the way.
Below are their accomplishments from the year:
Winners of 5 prestigious international creative awards
Awarded 20 New York State Creative Awards
Expanded their team due to significant growth
Worked with 133 clients in a variety of different industries throughout the country (including 34 airports)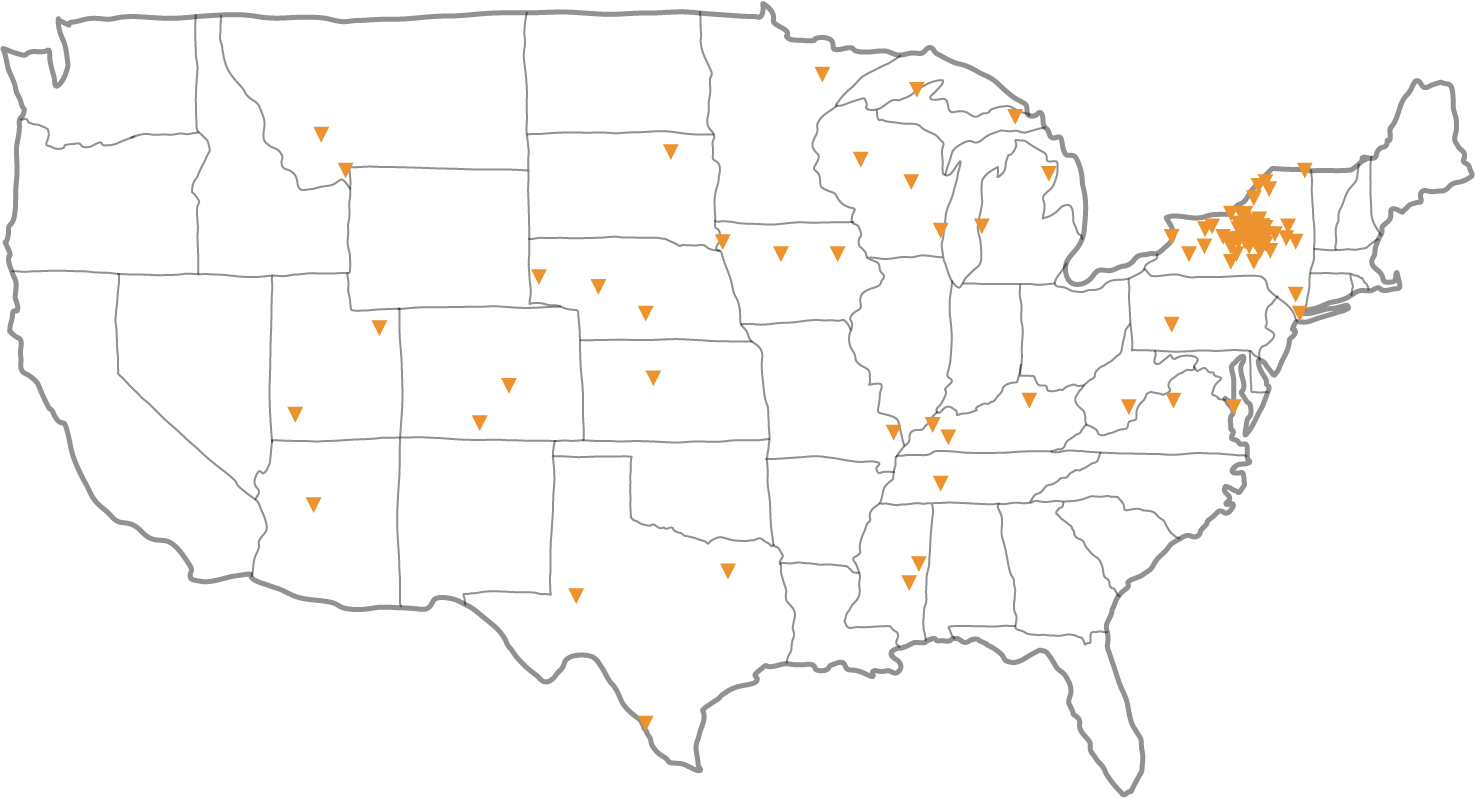 2022 AVA Digital Awards Winner – Gold
Digital Video Creation – Animated Holiday Card
Client: Bond, Schoeneck & King
The Team: Lea Gonyea, Amy Bleier Long and Mary Jo Kravec
Bond, Schoeneck & King is a full-service law firm counseling individuals, companies, not-for-profits and public sector entities in a wide spectrum of practice areas. They have over 250 lawyers and offices across New York State as well as offices in Naples, Florida, Kansas City, Boston and Red Bank, New Jersey.
They approached our creative services team in need of a concept for an animated company holiday card. One our creatives came up with the idea of using an 'A-Bond-Able' Snowman which tied in with the company's name. Her concept was to have the snowman shovel snow falling down a mountain with a voiceover that speaks to how the firm will always be there when any legal issue comes about with a kind thank you message to all their clients. The ski lift chairs, the flags in the background and star on the tree features their company's branding as well which gives the video a nice touch.
The end of the video showcases how the company proudly supports a list of food banks in the communities they serve in. The client loved the idea and how well it ended up coming out.
2022 AVA Digital Awards – Honorable Mention
Video Production – Commercials – Tourism
Client: Wayne County Tourism
The Team: Matt Sourwine, Mary Jo Kravec and Scott Trimble
Wayne County, NY is located on the southern shore of Lake Ontario between the cities of Rochester and Syracuse in the northern Finger Lakes Region. The Seaway Trail (a national scenic byway) and the Historic Erie Canal wind through our rural county providing the visitor with a wide variety of events, attractions, and endless activities.
They came to our creative services team in need of a :30 commercial to use in a marketing campaign promoting their county. This video features drone footage one our videographers captured when there. It came out absolutely beautiful and the client was  pleased with the end result.